Executive summary
U.S. payrolls in December increased by 199,000, less than half of the 450,000 expected by the consensus for the second month in a row. But, also for the second straight month, the rest of the report was solid.
The unemployment rate dropped to 3.9% from 4.2%, while the labor force participation rate held steady. Additionally, wages slipped slightly, but remain well above the pre-pandemic pace, which leads to more economic growth.
We note that the survey for this report was conducted before the big spike in new infections as a result of the omicron variant. Accordingly, the January report will likely be sloppy.
Ultimately, this report supports our view that the U.S. economy remains on solid footing, which calls for continued above-trend economic growth heading into 2022. Moreover, this report validates the notion that the economy doesn't need as much support from Federal Reserve (Fed) monetary policy, which should be gradually removed in the coming months.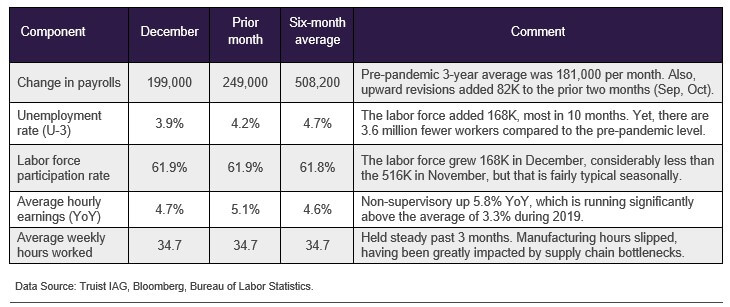 A review of the major industry trends 
Private payrolls increased by 211,000 workers in December, while government payrolls fell by 12,000. Service-providing industries added 157,000 positions, while goods producers hired 54,000 workers.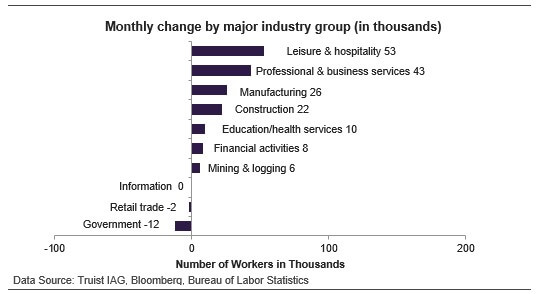 The government segment remains weak, falling for the fifth straight month, though the reason has changed. The prior weakness was mostly concentrated in educational positions, but the local non-educational positions were the biggest culprit in December. In fact, governments added 3,000 educational positions, the first increase in five months, while private education added 3,000.
The leisure & hospitality industry group continues to downshift after averaging gains of 252,000 for the prior six months (May to October). We attribute much of the downshift to seasonality as overall travel declines.
Retailers remain uncharacteristically weak during what should be a strong period (the holiday shopping season). The bulk of the losses were from specialty retailers (sporting goods, hobby, books, etc.), which cut 12,500 workers, and clothing retailers, which are struggling with online competition and sliced 8,000 positions. 
An accessible PDF allows users of adaptive technology to navigate and access PDF content. All fields are required unless otherwise noted.