Executive summary
U.S. payrolls in April increased by 428,000, well ahead of the consensus of 380,000. It marked the 12th straight month of job growth over 400,000, which is unprecedented.
Some of the internal components ebbed, signaling that the overheating conditions within the labor market, which have panicked investors, are beginning to wane. Average hourly earnings growth and hours worked slipped, and the unemployment rate held steady at 3.6%.
This clearly illustrates that the U.S. economy can power through the risks associated with the Russia-Ukraine conflict, including higher energy prices and inflation pressures.
While we expect hotter inflation readings to linger for longer, this report bolsters our "no recession" call. The U.S. has never had a recession while maintaining strong job growth. Moreover, the labor market strength permits the Federal Reserve (Fed) to continue its laser focus on inflation in the near term, while the ebb in the overheating conditions may provide enough cover to slow their pace later this year.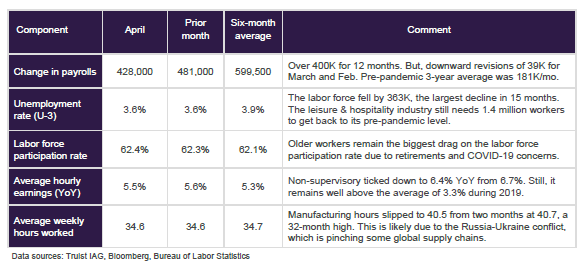 Graph highlighting components of the labor market for April, prior month and six-month average
A review of the major industry trends
Private payrolls increased by 406,000 workers in April, while government payrolls rose by 22,000. Service-providing industries added 340,000 positions, while goods producers hired 66,000 workers. More importantly, none of the major industry groups shed workers for the third straight month.
To read the publication in its entirety, select "Download PDF," below.

An accessible PDF allows users of adaptive technology to navigate and access PDF content. All fields are required unless otherwise noted.