Executive summary
U.S. payrolls in January jumped by 517,000, more than double the consensus of 188,000 and the largest monthly rise in six months. Upward revisions to the prior two months added 71,000 more jobs, pushing the six-month average down to 348,800. 
Additionally, the unemployment rate slipped to 3.4%, a new cycle low, while the labor force participation rate bumped upward. Moreover, average hourly earnings cooled to a 17-month low. While there were some funky swings with the seasonal adjustment, especially to the headline job gains, the improvement does jive with several other reports; most notably, the weekly initial jobless claims. 
We are in the "good news is good news" for markets camp, though stocks might flutter today as some worry that the Federal Reserve (Fed) won't cut rates soon. This is yet another report reinforcing the notion that the labor market is cooling but solid. We believe the Fed will stay the course, having just stepped down the size of rate hikes to 0.25% this week. We also view the market's rate cut expectations in 2023 as being offsides. While there is a healthy debate as to how high the Fed takes rates during this cycle, rate cuts in 2023 are becoming less likely.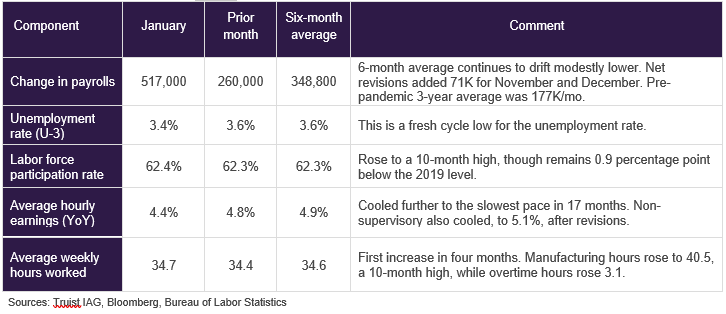 Change in payrolls: 6-month average continues to drift modestly lower. Net revisions added 71K for November and December. Pre-pandemic 3-year average was 177K/mo. Unemployment rate (U-3): This is a fresh cycle low for the unemployment rate. Labor force participation rate: Rose to a 10-month high, though remains 0.9 percentage point below the 2019 level. Average hourly earnings (YoY): Cooled further to the slowest pace in 17 months. Non-supervisory also cooled, to 5.1%, after revisions. Average weekly hours worked: First increase in four months. Manufacturing hours rose to 40.5, a 10-month high, while overtime hours rose 3.1.
A review of major industry trends
Private payrolls increased by 443,000 workers and government payrolls rose by 74,000. Service-providing industries added 397,000 positions, while goods producers hired 46,000.
Leisure & hospitality added 128,000 workers in January. Restaurants hired 98,600, the most in 11 months and extending an impressive 25-month stretch of job gains.
Education added 78,000 positions during the month between private educational services (26,000) and government (52,000), most of which were on the state level.
Within retail trade, general merchandise payrolls increased by 16,000, snapping an ugly 8-month losing streak, which lost 180,000 positions over that span.
Revisions added 74,000 more jobs to the November and December tallies than previously reported. Among them, couriers and warehousing & storage businesses both shed fewer workers than estimated. Electronics & appliance stores also had sizable upward revisions.
Unemployment rate down to cycle low, while wages cool
The unemployment rate drifted down to 3.4% in January from 3.5% in December. That is the lowest level for the current cycle and the lowest since May 1969.

The labor force added a huge 866,000 in January, the most in 12 months. The labor force participation rate rose for the second time in as many months, up by 0.1 to 62.4%, its highest level in 10 months. However, it remains 0.9 percentage point below the 2019 level.
To read the publication in its entirety, including supporting charts, select "Download PDF," below.
An accessible PDF allows users of adaptive technology to navigate and access PDF content. All fields are required unless otherwise noted.