Executive summary
U.S. payrolls jumped by 528,000, more than double the consensus of 250,000. Meanwhile, the unemployment rate edged down to 3.5%, a new low for the cycle.
The industry view was solid, with gains in all of the major industry groups. Within the report, there were more signs that the overheating conditions within the labor market continue to cool from the hard boil during 2021. For instance, average hourly earnings continued to slide on a year-over-year basis, and hours worked are unchanged for the past five months.
Ultimately, labor market conditions remain strong, pushing back firmly against the notion that the U.S. is in recession currently. Yet, it also means that the Federal Reserve (Fed) will continue front-end loading larger interest rate hikes. While there's a lot more data coming between now and the next Fed meeting on September 21, this certainly puts another three-quarter point (0.75%) rate hike on the table. At the very least, it upends the recent "Fed pivot" narrative that data has softened enough for the Fed to relax.
Alas, the tension between the possibility of additional supersized Fed rate hikes, tightening financial conditions, and other slowing economic data (especially housing) likely means bond and stock markets will struggle to digest this data.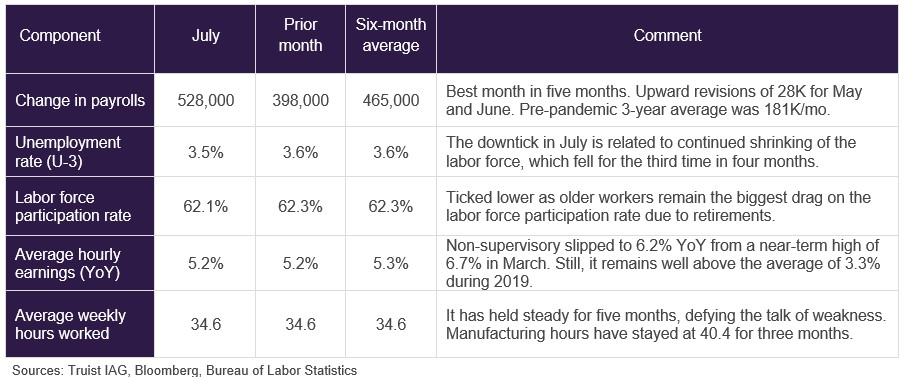 Chart describes changes in payroll in July 2022: Best month in five months. Upward revisions of 28K for May and June. Pre-pandemic 3-year average was 181K/mo; Unemployment rate: The downtick in July is related to continued shrinking of the labor force, which fell for the third time in four months; Labor force participation rate: Ticked lower as older workers remain the biggest drag on the labor force participation rate due to retirements. Average hourly earnings year-over-year: Non-supervisory slipped to 6.2% YoY from a near-term high of 6.7% in March. Still, it remains well above the average of 3.3% during 2019: Average weekly hours worked: It has held steady for five months, defying the talk of weakness. Manufacturing hours have stayed at 40.4 for three months.
A review of the major industry trends
Private payrolls increased by 471,000 workers, the largest increase in five months. Government payrolls rebounded strongly, up 57,000 after declining by 6,000 in June. Service-providing industries added 402,000 positions, while goods producers hired 69,000 workers.
Health care was a big job contributor in July, adding 69,600 jobs, the most since the reopening months in the summer of 2020. This is a very good sign insofar as health care services account for roughly 25% of the total economy. Moreover, this segment has lagged the overall recovery, including three months of job losses during 2021.
Hiring in the leisure & hospitality industry continued to rebound, adding 96,000 workers during the month. That was the most in four months. More than three-quarters (73,900) were hired within restaurants and bars.
Construction added 32,000 jobs during July, which defies the nearly-universal weakness within housing-related data for the past few months. Roughly one-third (11,200) were hired by residential specialty trade contractors, while another third were hired by commercial specialty trade contractors (non-residential). Both have reportedly been struggling to retain workers in the past year.
Otherwise, employment showed little change over the month in other major industries, including professional & business services.
Lastly, the U.S. has now surpassed the pre-pandemic total number of jobs. At just over two years (27 months), the speed of the job recovery has been nothing short of remarkable considering that it took 3.8 years following the mild 2001 recession and 6.5 years following the Great Financial Crisis. That said, it will take further job growth to get back to the pre-pandemic trend – in other words, the total number of jobs we "should" have had the economy not experienced the pandemic. 
Wage growth and hours worked continued to slip from very high levels in 2021
Wage growth increased as average hourly earnings rose 5.2% from a year ago, more than double the 2.4% average for the decade before the pandemic (2009 through 2019). But, it hasn't increased in four months, and is down from 5.6% in March.
For rank & file workers (officially known as production & nonsupervisory employees), the pace of average hourly earnings slipped on both a month-over-month (up 0.4% vs. 0.5% in June) and year-over-year basis (up 6.2% vs. 6.4% in June). It, too, remains significantly above its pre-pandemic 10-year average of 2.4%. This is important since production & nonsupervisory employees are the bulk of all employees and where most of the dramatic recent wage gains have been concentrated.
To read the publication in its entirety, select "Download PDF," below.

An accessible PDF allows users of adaptive technology to navigate and access PDF content. All fields are required unless otherwise noted.