It's the sort of high-profile case that garnered significant media attention because the association's seasoned finance and investment professionals were clearly aware of the unethical actions taking place. Far more frequently, however, the breaches of fiduciary duty that occur among association investment committees are born out of inexperience rather than ill intent.
By their sheer size, smaller associations often don't have the luxury of specialized financial expertise. Investment committee members frequently assume their role with a limited understanding of regulatory requirements or 'prudent man' fiduciary best practices.
For example, it wouldn't be at all uncommon for the investment committee of a regional automobile dealership association to be populated exclusively by dealership owners—individuals who may be keenly adept at running a business, motivating a sales force, even overhauling an engine, but somewhat less savvy when it comes to investment matters.
Imagine for a moment trying to field a football team whose offense is comprised entirely of wide receivers. Without a quarterback to get them the ball, adept linemen to protect the quarterback and a running back to keep the defense honest, no matter how skilled they are in their particular area of expertise, the likelihood of team success is remote.
Nevertheless, you and your investment committee members have an important fiduciary duty to your association—including the duties of care, loyalty, and obedience. In short, you're obligated to act reasonably, prudently, and in the best interests of the association to avoid negligence and fraud, and to eschew any conflicts of interest. A breach of any of those duties potentially exposes you to personal liability for damages incurred. But at Truist, we firmly believe that with the right combination of coaching and resources, even the most inexperienced investment committees can serve both honorably and successfully.
"Before you are a leader, success is all about growing yourself. When you become a leader, success is all about growing others and growing yourself with and through others."

 

Jack Welch
Embracing your role as coach
The most successful investment committees are generally those that have mastered how to solve problems and make decisions together. As CFO, it's incumbent upon you to encourage and support problem-solving and decision-making behaviors that actively deepen each member's ownership of and accountability for committee results, arming them with:
The ability to engage in a defined process that actively seeks and thoroughly explores differing opinions, perspectives, and input to solve significant problems, make decisions, and/or delineate options.
Issuing an invitation for all to contribute is vital to the process. It not only shows that as CFO you respect everyone's contribution, it demonstrates a supreme confidence that others can be great contributors and make great decisions. Try to never lose sight of the fact that effective CFOs guide and manage from within the committee structure, rather than attempting to direct from above.
Begin by establishing a set of common rules and structures for working together. It will afford you a multitude of benefits—from better planning and faster decision-making, to rapid and consistent issue response and better adherence to regulatory requirements and reporting deadlines. Common rules and structures not only cultivate positive feelings about your committee and how it functions, but also help to minimize any potential conflicts.
Ideally, your rules and structures should be co-created early in the formation of your investment committee. But they're not static and should continue to evolve over time—taking into account individual personalities, styles, values, experiences, strengths, and preferences as new members come onboard.
Keep in mind, however, that when committee rules and structures are mandated and driven from the top down, they tend to establish an unhealthy dynamic of superiority and subordination. Conversely, when your committee's rules and structures for working together are co-created and mutually agreed upon by all members, they're far more likely to be adhered to and enforced.
Without agreed upon rules and structures, committees will naturally default to what they know best—typically whatever they're accustomed to doing individually. This often leads to confusion, a lack of trust and commitment, and ultimately conflict. All conditions you very much want to avoid.
Building interdependence among committee members
True interdependence only occurs when ALL committee members share mutual ownership of goals, along with the resources to attain success. It promotes cooperation and fosters the skill- and information-sharing that will allow your association to achieve greater synergies. Without it, key values like transparency and ethics may quickly begin to deteriorate.
But building an interdependent investment committee is by no means a simple task. As a society, with the exception of sports, we celebrate individual achievement far more than team achievement. In fact, from the moment we first enter the educational system, we're hard-wired to compete against our peers rather than cooperate with them. Start by dispelling some of the more common beliefs and behaviors that tend to fragment rather than unite other committees:
Frequently remind committee members that neither you nor any single individual holds all the answers;
Try to refrain from making unilateral decisions without input from all committee members;
Discourage factions when and where you see them. Don't allow an 'us vs them' dynamic to take root; and
If something goes awry, try to focus less on blame and more on the challenge of how to improve processes and procedures to avoid future occurrences.
In a well-functioning collaborative committee, members genuinely trust each other and forge strong bonds of empathy, compassion, and shared success—not only in the sense of achieving measurable goals, but in overall satisfaction with their role.
Take time to really get to know your committee members.
What are their individual skill sets?
What are their personality and behavioral styles?
What motivates them and what causes stress?
How do they respond to conflict?
Understanding the answers to these questions will not only allow you unlock each individual's potential, it will serve as the foundation for building stronger cohesion and communication among committee members.
Meet privately with each committee member at least once a year (more frequently if possible) and engage them about their personal goals. What do they hope to get out of their service? How will committee participation help them further their own professional goals? Try to uncover what aspects of the committee's work they find most rewarding, what they hope to accomplish over the short-term, and the role they see themselves playing?
Self-awareness is the key to growth and improvement. However, to genuinely understand individual behaviors and motivators, you'll want objective measurement criteria. Myers-Briggs type tools can be an invaluable resource in helping to match individuals with specific roles and responsibilities more accurately and effectively, and in creating a clearer picture of the personalities you'll be called on to coalesce as CFO.
The power of co-creating goals and strategies
Fostering an affirmative results-focused environment helps build a cohesive committee that can meet any challenge—one that's focused on what can be controlled, has a shared sense of mission, purpose, and importance, and maintains a relentless commitment to problem-solving rather than finger-pointing.
It all starts with effective goal-setting. Make sure that each committee member has a clearly defined and measurable contribution to make, and that those individual goals all roll up into team goals. Clearly-defined goals (where everyone understands their respective roles and responsibilities) lead to greater collaboration—especially when you as CFO reinforce that inclination by exhibiting highly collaborative behavior yourself. Remember, however, that not all tasks will require collaborative behavior. Aligning committee resources accordingly will ensure that appropriate effort and manpower are channeled efficiently.
Naturally, as CFO, there will be times where unilateral decisions will be called for. Occasionally, you may even feel compelled to override a committee decision that you feel will be detrimental to the association's core principals. But these instances should be the exception not the rule. Strive to participate in committee decision-making as a member, but also understand that your role as CFO affords you a unique perspective and viewpoint. The following four strategies can help to get and keep you on the right path:
1. Talk with, not "at," committee members—collaborative conversations happen when you as leader spend more time listening and questioning committee members rather than telling or directing them. Listen completely, be curious, and ask powerful and poignant questions to create a comfortable atmosphere of mutual trust and respect.
2. Access the best of everyone—take time to learn about each committee members' skills, strengths, and aspirations; and make it a priority to demonstrate your personal investment in their ongoing development. It shows genuine care and a personal interest in their success; provides an opportunity to validate their interests, offer your perspective, and provide encouragement; and will help you understand how best to motivate and involve each individual in committee goals and activities.
3. Make everyone accountable and invested—avoid the building of organizational silos by spending considerably less time talking about individual roles and responsibilities. Emphasize association goals and continually encourage individual members to hold themselves accountable for their collective contributions to the committee's success.
4. Encourage diversity of thought and opinion—human nature causes us to gravitate to those who think like us and act like us. It brings a certain degree of personal comfort, but homogenous groups can quickly stagnate from the lack of diverse thoughts, opinions, and ideas. Highly functioning and productive committees understand that, just as a football team needs different technical skills to perform well, a great committee needs different perspectives and insights.
These relatively simple undertakings will go a long way to building a committee where shared leadership, the co-creation of goals and strategies, and mutual accountability give everyone a tremendous belief in each other—fostering a strong desire to work together for the good of the association.
Continually measuring success
Needless to say, investment performance will play a critical role in your committee's goal-setting and success determination. But how should you go about measuring that success? Typically, investment committees have discretion as to how they invest the association's funds. They're neither mandated to achieve a specific rate of return, nor liable for incurring losses—as long as they adhere to a rational, documented investment strategy.
In fact, two of the more notable cases of association-related investment litigation actually resulted not from unnecessarily risky investing, but from an overly conservative management of funds that was deemed to be a dereliction of fiduciary duty. In one case, more than $1 million of association funds were being maintained in several non-interest bearing accounts at local banks. While in another, a disagreement between committee members resulted in the organization's funds wallowing in a non-interest bearing account for several years. In both instances, individual committee members were found personally liable for a reasonable minimal rate of interest that should have accrued over that time.
There are a variety of benchmarks that can be used to help answer the important questions as to how your committee's investments are performing—versus the market, versus your peers, and versus your goals. These various approaches (including CPI+ X%, and absolute and relative benchmarks) are discussed in detail in our Benchmarking Basics—A Fiduciary Perspective white paper which you can get a copy of by visiting www.truist.com/nonprofitinsights.
In determining an appropriate investment performance benchmark, however, the following six criteria should always be your key determinants: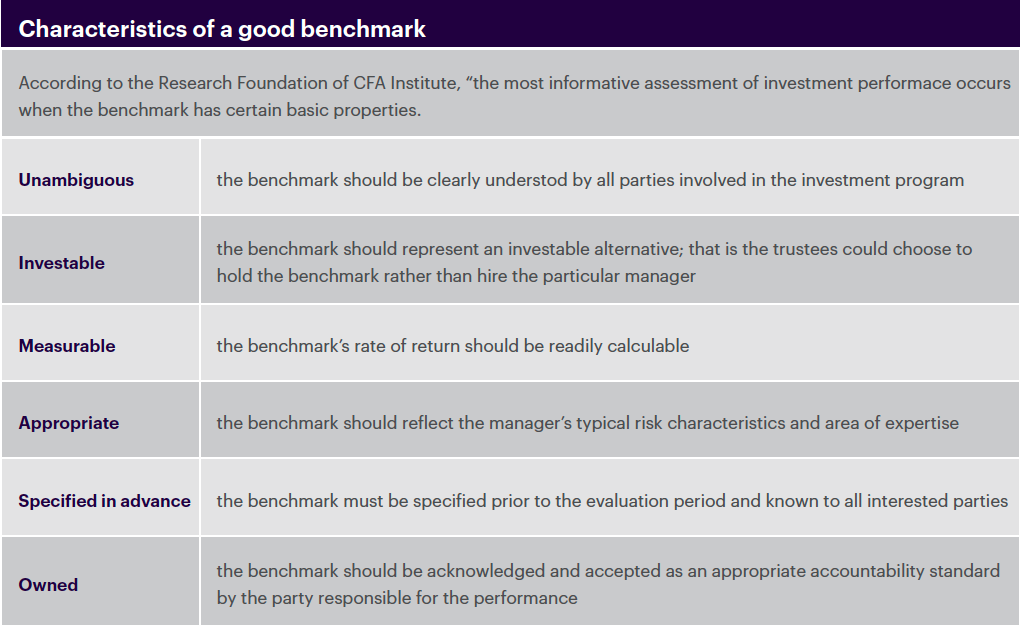 But don't make the common mistake of relying on investment performance as the sole measure of your investment committee's success. Other committee functions including meeting attendance, participation and collaboration, along with adherence to your association's IPS and spending policies (as well as other considerations), should be factored into your success measurements.
Realizing your vision starts with educating your committee
Establishing a winning investment committee hinges on the ongoing education of your members—providing the necessary resources and essential competencies that will allow them to build the appropriate structures aligned with the right strategies. As CFO, make it your mission to seek out educational opportunities whenever and wherever possible. Encourage members to attend investment conferences and workshops to expand their knowledgebase and bring new ideas to the table. Carve out a reasonable amount of time during every investment committee meeting to focus on an educational topic. Leverage news publications, blogs, and industry events to stay abreast of thought leadership.
Your long-term goal should be to build an investment committee educational toolkit that maximizes the investment understanding, capabilities, and insights of both existing committee members and future members. To get a head start, review our Truist Investment Committee Toolkit at www.truist.com/toolkit.
Great CFOs are those who consistently seek out performance opportunities for their committee members rather than themselves. It not only demonstrates a belief in the abilities of your individual members, but helps other stakeholders (the association's board, as well as rank and file membership) get a full and complete view of your committee's dedication and capabilities. And it's the cornerstone of building mutual accountability—a quality that neither develops on its own, nor can be coerced.
Rather, mutual accountability must be co-created between you as leader and individual committee members—ensuring that everybody knows precisely what outcomes are expected and who is being counted on to achieve them. By following these simple guidelines, you'll be well on your way to cultivating an environment where members hold themselves accountable for their individual actions and contributions, as well as their collective contributions to the committee, and the committee's collective results on behalf of the greater association.
About Truist Foundations and Endowments Specialty Practice
Truist has more than a century of experience working with not-for-profit organizations. Fiduciary stewardship is the heart of our culture. We're not just a provider, but an invested partner—sharing responsibility for prudent management of not-for-profit assets. Our client commitment, not-for-profit experience, and fiduciary culture are significant advantages for our clients and set us apart. The Foundations and Endowments Specialty Practice works exclusively with not-for- profit organizations. Our institutional teams include professionals with extensive not-for-profit expertise. These professionals are actively engaged in the not-for profit community and are able to share best practices that are meaningful to their clients. Team members offer guidance and advice tailored to the various subsets of the not-for-profit community, including trade associations and membership organizations. Our Practice delivers comprehensive investment advisory, administration, planned giving, custody, trust and fiduciary services to trade associations, educational institutions, foundations, endowments and other not-for profit clients across the country.
Interested in having a deeper conversation about building a winning investment committee?
Contact your Truist relationship manager or investment advisor or call us at 866-223-1499.